Just as younger folks enjoy riding their bikes, the elderly deserve that feeling too. But as a senior, do you think it is over for you to take a bike ride? Well, I'm glad to tell you that with the NAKTO 26″ Cargo Electric bicycle, you can enjoy a long bike ride effortlessly. This bike has impressive features that will allow you to go 22 miles on a painless and comfortable ride with just a single charge.
As a senior, you need a bike that works for you, and the perfect option is getting an electric bike. These bikes can help you move around with much ease, even in hilly or mountainous terrain.  They are also a practical means of transportation for older people.
But you need to get the best electric bike for seniors to enjoy the benefits mentioned above. So, to help you make the right choice, we've taken our time to research and select the best electric bikes for seniors. We also provide criteria to consider so that you can choose a suitable bike.
Top 3 Best Electric Bike for Seniors
As the days keep counting, more brands release electric bike models into the market. However, most of them are for the younger populace, making the electric bike for older people difficult to find.
Considering the numerous models on the market for seniors, this poses many challenges to choose a suitable electric bike. But we've scoured the market and picked the 3 best electric bikes for seniors.
1. Top Pick/Overall Best Electric Bike – NAKTO 26″ Cargo Electric Bicycle
The NAKTO 26″ Cargo Electric Bicycle is an embodiment of hope for older cyclists. It features a premium-grade carbon steel frame, which gives it tenacity and strength. Likewise, the fork offers absolute shock-absorbing qualities. It's the best thing to happen to a senior biking enthusiasm.
Moreover, the impressive braking component helps the bike to a quick stop even at high speed. It features a 6-speed transmission system with an easy gear shift. You can always ride anywhere as the brakes are there to protect you. Drive around the neighborhood with confidence and stop the instant you wish to.
The NAKTO electric bike makers considered your worries for a flat battery with this one. The bike comes with a 36V 10A removable Lithium battery for your journeys.
You can bike ride a long distance of up to 45km from your spot with a full charge. Not only would you have a long ride, but you can decide how you want to enjoy the ride. You can choose E-bike mode with pedal assist, or you go for the variable speed throttle.
Go for your night rides across the street with this electric touring bike. It comes with a powerful LED lamp that simplifies night trips.
If you want to enjoy a painless and comfortable ride, this is the best electric bike for you.  You can switch to E-bike mode for effortless control and get across the paved road in style. It also has a charger for long-distance trips.
Drawbacks
The components are cheap. First, the headlight bends after a short period of use. The rear wheel spokes loose within a short period of use, giving rise to unpleasant sounds from behind when you're in motion.
2. Best Women Electric Bike – Rattan Electric Bike
Step Though Ebike
Give the younger riders a good run for the money with the Rattan electric Bike. It's all shades of comfort as the aluminum alloy frame is lightweight and is easy to flick around. It doesn't mean this Rattan bike depreciates in durability as the design is solid and firm.
Also, it has a lock feature for the battery and power to guard against theft. In five to six hours, your bike has hit full charge and is ready to commute. It comes in four different models to suit different categories of seniors.
Each bike has a unique feature that makes it suitable, like the LM series with a high step. The LF series represents a low step for the female gender. It has a tube bent in the rear with a headlight and back seat sturdy to carry 55 pounds of items.
It has fat flat tires so you can attain maximum balance as you ride. The wheels offer more grip in every road condition.
The bike is an all-weather bicycle with features that give you the best biking performance. Thanks to the spring fork suspension, your comfort is never in dispute. E-bikes are good, but Rattan is sure one of the best value electric bikes on the market.
Drawbacks
One of the most significant downsides of this bike is that it looks inferior. Due to the frame's lightness, it may bend on the slightest hit or extreme force. The metal strand that holds the headlight is also weak and might take a bend too after a short period of use.
3. Best Step-through Electric Bike: ANCHEER 26″ Electric City Bike
Experience your best performance as a senior cyclist with the ANCHEER 26″ electric city bike. This bike offers you a smooth and comfortable ride thanks to the e-cruiser tires. It is also best for a bike race with your folks due to its fantastic 16mph speed.
It comes with a step-through electric bike frame for easy mounting and getting off the bike. You can always ride upright and feel relaxed thanks to the pullback handlebar. If you're too tall or short for the default setting, you can adjust it for better comfort.
The bike is lightweight, durable, and the body has a beautiful matte black finish. Experience less drag and higher comfort on the aluminum alloy wheels and rims. It also helps increase your riding pleasure with its high suspension fork.
Drawbacks
Its rear brake is weak and can't hold form for a long time. Also, the adjustment may be a bit difficult and require extra service from a bike repairer. Finally, the bike could be better with a seventh or eighth gear to help the already available six.
How to Choose the Best Electric Bike for Seniors
Choosing a suitable E-bike can be quite challenging, especially for seniors. But it gets a lot easier when you're aware of the important criteria.
So, what are the criteria to consider?
Well, topping the priority list are factors like comfort, safety, and stability. But that's not all. You also have to consider battery and motor power and a few others.
E-Bike Safety and Stability are Vital
First, you need to consider all the features that play a part in the bike's safety and stability. For instance, puncture-resistant tires help prevent potentially serious injuries and falls, ensuring your safety.
Getting one with thicker, fatter tires are also great. These tires provide more balance and stability as you ride.
Should I choose E-Bike with Step-Through Frame or Low Crossbar?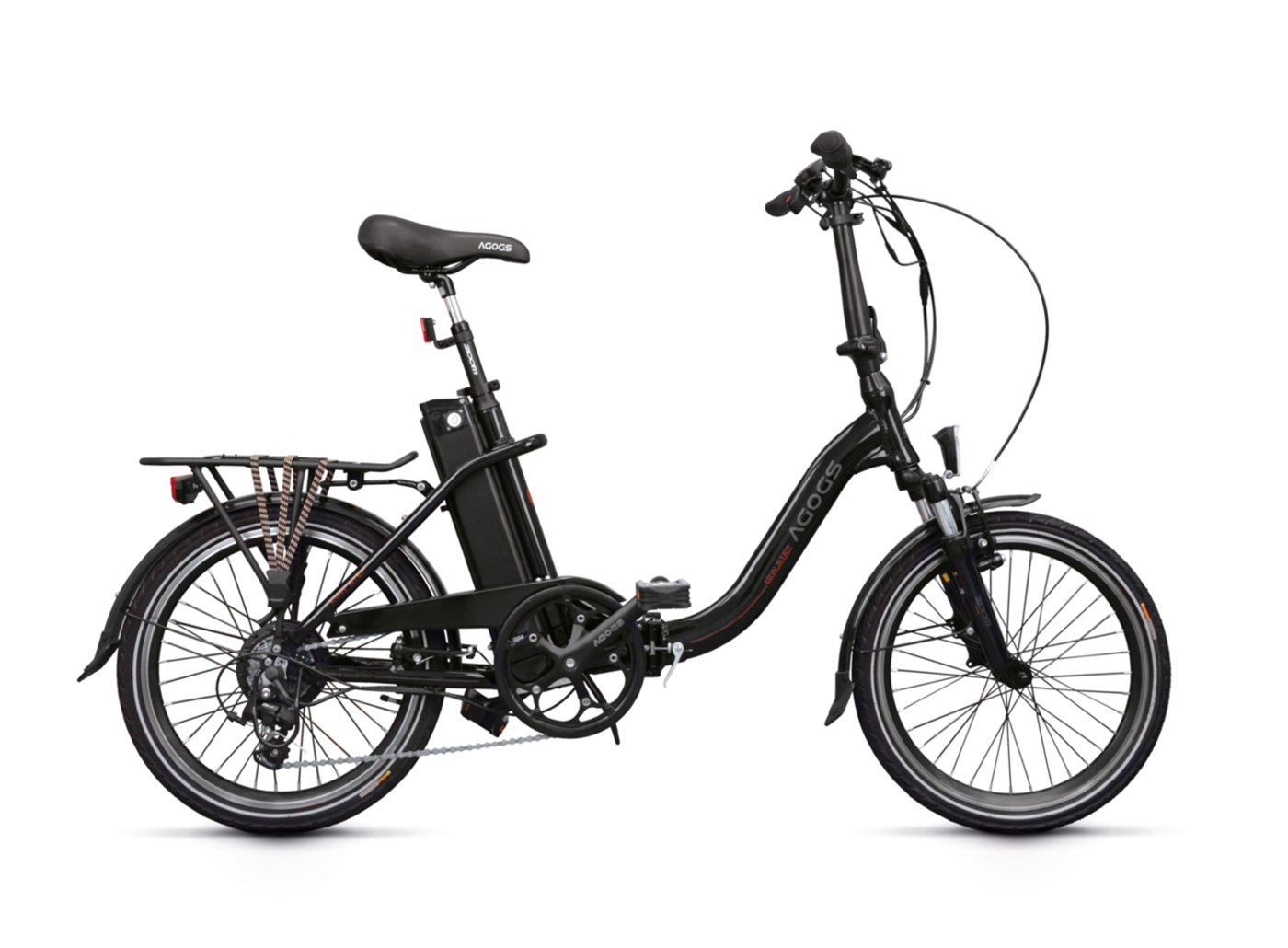 The e-bike should be easy for the elderly to mount and dismount. As a senior, you should go for one with a step-through frame or step-through electric bike, rather than the high cross-bar models. The reason is that E-bike with a low-step frame makes it easy to get on and off the bike.
The Step-through electric bikes are the best option for those with limited mobility or decreased balance. Ultimately, it lowers the risk of tripping or falling while mounting, dismounting, or riding.
For instance, if the rider should ever lose balance while riding, all he needs to do is step through the E-bike to dismount, instead of tripping over, hitting the bars, or getting injured due to a fall.
If you cannot get your hands on a step-through frame bike, then go with an E-bike that has a swooping or lower frame. You can mount and dismount with ease on this bike too.
For the elderly, a great test to confirm whether an E-bike is right for you is to check if you can plant both feet in the ground while comfortably seated.
 All in all, you'll be more comfortable, safe, and enjoy a faster riding experience choosing a low step-through E-bike.
Motor and Battery Power
The best motor capacity for a senior E-bikes is between 250-watt to 500-watt motor. Anything higher than that could be dangerous for elderly people.
As a senior, if what you need is an E-bike for leisure rides, commuting, and perhaps even to exercise, then you don't need a powerful motor. Hence, it is not necessary to go for one with 500-1000 watts.
An Electric bike with 250-500 watts equals about 15-20 MPH, and you could even go faster than this with the pedal assist. Most e-bikes strictly made for leisure riding and commuting come with 250-watt motor power.
However, if you ride in areas with a rough and uncertain landscape, you could get with one up to 500 watts. These models are more powerful and can scale up hills faster. E-bike with lower wattage offers you more riding time.
Hence, it is important to first figure out your riding style, routines, and landscape before selecting an E-bike.
When it comes to the battery, it is advisable to have a back-up or a double-strength battery. This measure ensures that more vulnerable riders with pedaling difficulties never get stranded due to battery drain.
Consider Getting an Electric Tricycle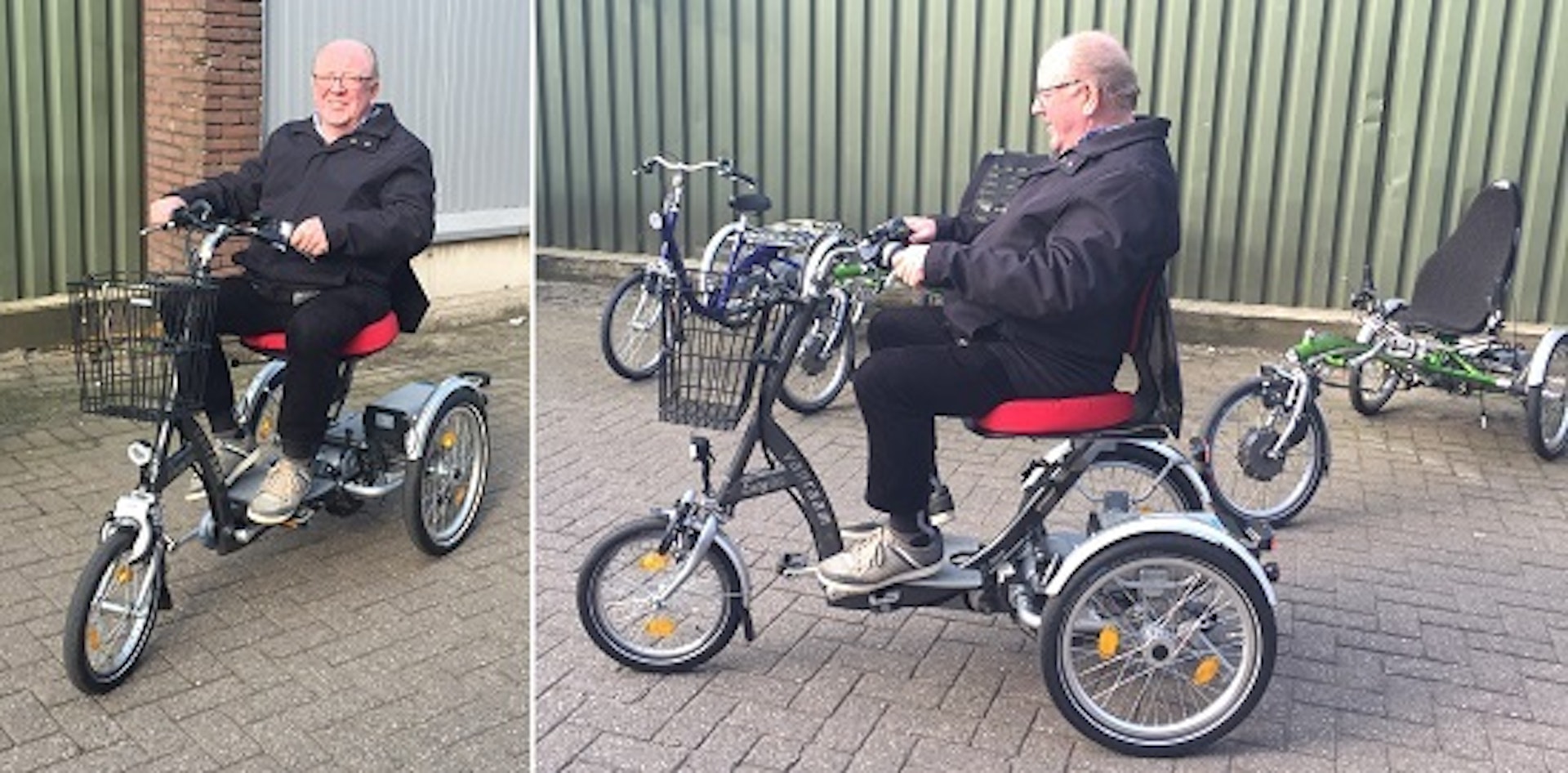 Generally, for the elderly with specific concerns maintaining balance, you should consider purchasing an electric tricycle instead of an E-bike.
Tricycles have three wheels for more stability, as opposed to e-bikes, which have two.  With the great stability it offers, you can move around with it safely while appreciating the scenery.
Also, consider getting an E-bike with a pedal forward design. These allow you to place both feet on the ground easily. This means you will maintain more balance while starting, riding, and stopping, at the same time attaining the good leg extension required for cycling.
Most step-through frames feature the pedal forward design. You should keep this type in mind when looking for the best electric bike for seniors.
Wrap Up on the Best Electric Bike for Seniors
We believe you can choose a suitable E-bike for yourself or your older folks with all the information provided above. Some bikes offer you more comfort and rideability, while some go fast and smooth. Choose whatever works for you but consider getting one with a step-through frame for your safety.
Cycling is no longer for the young and youthful as the elderly can also catch the fun. So, whether you want to get around your neighborhood or for a knee workout, any of the best electric bikes for seniors mentioned above would stand a chance any day. 
So, what are you waiting for? Get one now and enjoy a bike ride.